• homemade • junk journaling • scrapbooking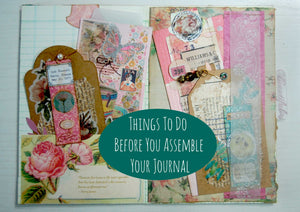 So, you have a few signatures put together and you're ready to assemble your journal. I suggest you take a few easy steps first, to make your finished journal even more cohesive. Step 1 - Page Placement Take a moment to flip through your signatures and make sure the spreads that have been created look good. Some papers might not look good next to each other. Rearrange them if need be.  They certainly don't have to be perfect. A lot can be done to bring two pages together. But if you start with a good flow, it's all easier from...
---
• ephemera • homemade • inexpensive junk journaling supplies • junk journaling • scrapbooking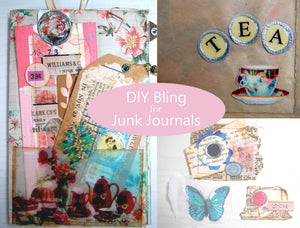 I spent this past week thinking of all the ways I can add some sparkle to my journals without spending a lot of money on charms and other fun shiny things. Here are some ideas I came up with using heat embossing and Glossy Accents. I used watermark ink (any slow drying ink, such as pigment ink, will work) and Metallic Silver embossing powder to make this pretty vellum pocket topper. Here's a link to silver embossing powder if you want to see what I used. Link I used rubber stamps and ink to make the 4 squares on vellum....
---
• belly band • homemade • junk journaling • scrapbooking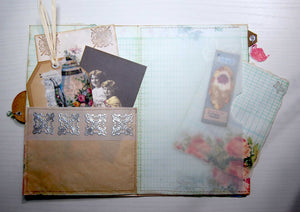 I first used vellum in the Ephemera Storage Journals I made to organize my stickers and other little bits. I made the pockets out of vellum and they worked great! They are super sturdy and transparent, so I can see what is in the pockets. Here's a video if you are interested: DIY Ephemera Storage Journal I liked the vellum so much, that I spent a week coming up with fun ways to use it in my journals. Here are some of my ideas: Emboss Vellum The overlay on the pink belly band on the right is embossed vellum. The vellum looks...
---
• inexpensive junk journaling supplies • junk journaling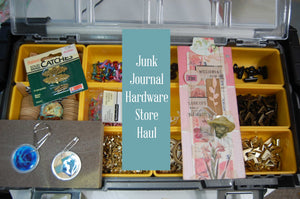 I recently realized that I have a lot of junk journaling supplies that I got from hardware stores. And I got them because they were special and inexpensive. So I thought I'd share some of them with you. Organizational Supplies Hardware stores have great organizers. And they are sturdy and stackable and functional and half the price of craft organizers. Are they pretty colors? No. But I keep them in my closet and I can deal with that.  This $23 tool box will last forever. The yellow bins are removable and there is an upper deck with smaller bins. I...
---
• ephemera • homemade • junk journaling • scrapbooking • tabs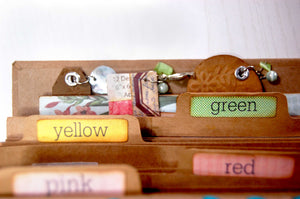 I did a deep dive with tabs recently and experimented with making and using all kinds of tabs in my junk journals. In my mind, I separate them into functional and decorative tabs. Functional Tabs These tabs in my ephemera storage journal are functional because they let me know where my various colors of ephemera are. The vellum tab on the side of the page can be either functional or decorative, depending on what label you slide into it. And the pink tab on the side of the belly band is functional because it lets you know there's a journaling...