Blog — uses for a Rolodex
• uses for a Rolodex • ways to use a Rolodex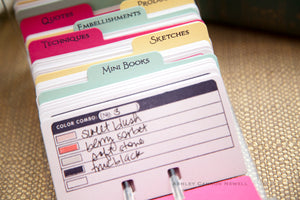 The internet has some inspirational ways in which people use their Rolodex.  LOTS of people use a Rolodex as a desktop scrapbook. And I mean LOTS. There's a whole movement out there. I would put Bible journaling in the scrapbook category, too. Also HUGE!  If you don't believe me - just jump on Pinterest and search "Rolodex".   Kristy Dalman at Some Odd Girl uses her Rolodex to store her hundreds of rubber stamps. This is totally brilliant. Need a flower stamp? Turn to F.   Scrapbook.com suggests using a Rolodex to list all the various stamping techniques you use.   AshleyNewell.com uses her Rolodex...
---
• uses for a Rolodex • ways to use a Rolodex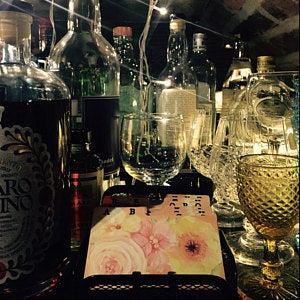 My customers have some amazing ways of using their pretty Rolodex cards and dividers, and I LOVE it when they send pictures!   Michelle uses her Rolodex to keep track of the places she has traveled to & the places she wants to go.   Jeannine uses her Rolodex to keep track of all of her knitting and crocheting patterns. Knit one, pearl two.   Jessica uses her Rolodex to keep drink recipes at her bar.   Amy ordered custom kitty Rolodex cards and dividers to use as a seating chart at her wedding.   And Amber used our Rolodex cards and...
---
• uses for a Rolodex • ways to use a Rolodex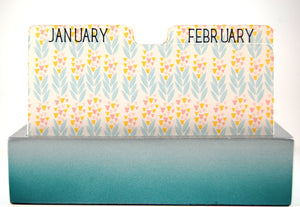 Not only do I use my pretty Rolodex to keep track of my hundreds of internet passwords, I also use it to keep track of my social media ideas. I have Rolodex dividers for every month and an "evergreen" divider at the end. Whenever I get an idea for a blog post or an Instagram post, I jot it down on a Rolodex card and file it under the appropriate divider. I just love turning that handle and watching all of my ideas flipping past. Rolodex for social media ideas - Use # 2. Check out our multi colored Rolodex...
---
• password log • uses for a Rolodex • ways to use a Rolodex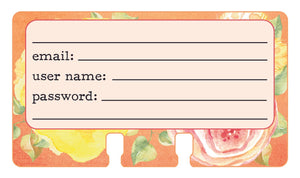 Why would anyone use a Rolodex? This is the question I get asked most often. I know, I know: Rolodex is the dinosaur of the office supply world. The only thing less useful than a Rolodex is an abacus. I get it. But I couldn't live without mine, and I've learned I'm not the only one. So in the next few blog posts, we're going to discuss how all different kinds of people use their Rolodex. I'll go first since I am the only one here. I keep all of my internet passwords on our password Rollie cards. Whenever I log...