Blog — holiday paper crafts
• holiday paper crafts • homemade • junk journaling • scrapbooking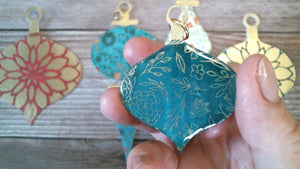 I started this project thinking I was making Christmas gift tags. But some of them turned out so cute I'm using them as ornaments! They are super fast and fun to make. Here's what I used: Supplies Cardstock ornament shapes. I made my own using my Cricut and used two layers of cardstock. Alcohol Markers (other kinds might work) Clear embossing ink Stamp that is large enough to cover the ornament shapes Gold embossing powder Glossy Accents Gold Jump Rings Stamped Tags The two tags above were made in similar ways. The little one I colored then embossed. The big one...
---
• holiday paper crafts • homemade • junk journaling • scrapbooking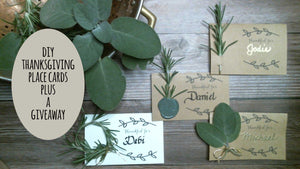 I've been working on some place cards for Thanksgiving dinner and I am loving how they are turning out. Here's what I've come up with so far: I printed the template (get it for free below) on white cardstock and glued on a rosemary wreath. I used a calligraphy marker for the name. Then I decided that I preferred kraft cardstock. This one is decorated with sage leaves that I glued on and tied with a gold bow. The lettering is made with an emboss pen and gold heat embossing powder. This one is similar, except I cut two slits...
---
• ephemera • holiday paper crafts • homemade • inexpensive junk journaling supplies • junk journaling • scrapbooking
This article will teach you how to make easy, yet stunning, holiday place cards and gift tags using one special ingredient: DIY tickets. These tickets feel just like real tickets because I use drywall tape from the hardware store (paint department). And I use a tracing wheel from my sewing kit. I know these aren't common things most crafters use, but they make all the difference, I promise! Step 1 - Color Drywall Tape  I don't like the bright white background, so I usually dye the drywall tape to start. The photo above shows inking, painting with watered down acrylic paint,...