• belly band • homemade • junk journaling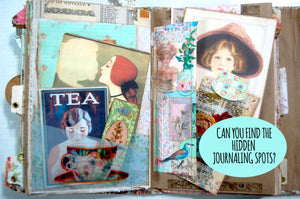 I like to get a little playful with my junk journals. One way to do that is to make journaling spots that are "secret". Here are some ways I've found to add journaling spots that aren't obvious. The Envelope Flip This envelope opens, so you can put a folded up piece of journaling inside it. But it also is only attached to the page with a layer of sewing on the envelope flap. You can flip it up, revealing the hidden journaling spot on the page beneath. Folded Page and Folded Tag Hidden Spots This photo is hiding two secret...
---
• ephemera • homemade • inexpensive junk journaling supplies • junk journaling • scrapbooking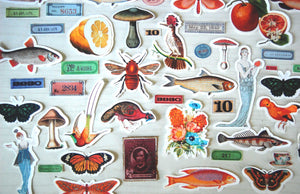 I LOVE using stickers in my journals and mixed media projects. But they are expensive and some of them come with plastic backs, which are terrible for the environment. So I tried to figure out all the ways I can make my own stickers. Here's what I came up with. Make Faux Stamps Some of these stamps I designed, but some of them I got from Wikimedia Commons Public Domain. I lined them up in Photoshop (you could use Word or any other software that allows images.) Then I printed them on paper and used lickable glue on the back (recipe...
---
• ephemera • homemade • inexpensive junk journaling supplies • junk journaling • scrapbooking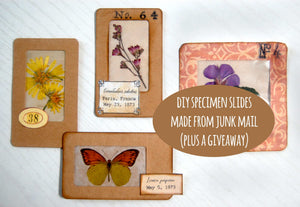 I have a ton of mangled, ripped window envelopes. I saved them because I figured that one day I'd think of something amazing to make with them, and that day has come! Check out my specimen slides! Directions and the printable are below. There's s video of the process here: Specimen Slide Video Step 1 I started with this printable, which I printed on kraft cardstock. Then I cut out the individual slides. There is a link to the free printable below. Please do not share it with anyone. Free Specimen Slide Printable Step 2 Then I positioned the slide cut...
---
• ephemera • homemade • inexpensive junk journaling supplies • junk journaling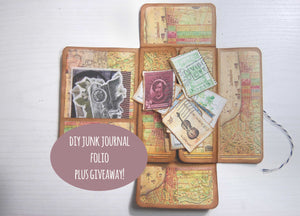 In this video: DIY Folio I showed how I made this sweet folio. There's a link below for the printables I used. They are free to print or download. Please do not share them. Here's how I made it: Step 1 Print the Folio Template on cardstock. I used 65 # brown kraft cardstock. There are light and dark versions of the template. Use the lightest one that shows on your cardstock so the lines aren't obtrusive. Note: the printables don't have the words on them. I just put that up here so you know what goes where. Step 2 Print...
---
• homemade • junk journaling • scrapbooking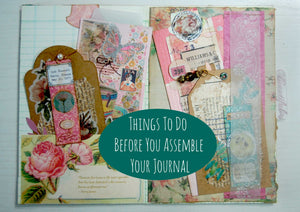 So, you have a few signatures put together and you're ready to assemble your journal. I suggest you take a few easy steps first, to make your finished journal even more cohesive. Step 1 - Page Placement Take a moment to flip through your signatures and make sure the spreads that have been created look good. Some papers might not look good next to each other. Rearrange them if need be.  They certainly don't have to be perfect. A lot can be done to bring two pages together. But if you start with a good flow, it's all easier from...