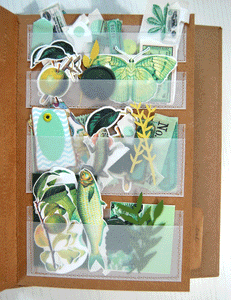 When I first started collecting stickers and stamps and tickets for my junk journaling, I put everything into a cookie tin. Very quickly I realized that I spent WAY too much time searching for what I wanted. So I made a bunch of pages with see through pockets so I could organize my little bits.  I organized everything by color, because that is how I work. When I want a little bit of green for a collage I am working on, I grab the green folder and find just what I need. I have been using these "signatures" (a book...
---
My kids love getting gift cards, but that seems so sterile as a gift. So I came up with these handmade gift card envelopes. They are the perfect size to hold a gift card and the cardboard backing (if you fold it). That way, the recipient knows you put some thought and effort into their gift. (And they still get what they want.) Materials Needed Scissors Credit card or other tool to crease a fold Double sided tape or glue Pencil Sharp object to poke a hole with 9" of twine 2 brads and 2 sturdy circles (I glued 2...
---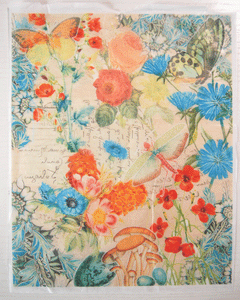 I love using pretty printed tissue paper in my crafts and junk journals, and I wanted to be able to make my own. I tried just running the tissue through the printer, and it always got jammed. So I figured out how to use a piece of cardstock to make the tissue firm enough to go through the printer. It only takes a few steps, and once you get going, you'll want to make tons of these sweet pages.   How to Make Pretty Tissue Paper  Materials: Tissue paper (the kind for wrapping gifts). I used white. A digital download (such as...
---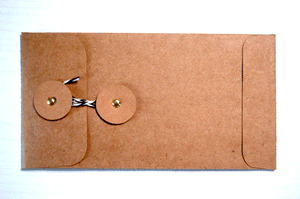 This is what we're making today: A sturdy kraft cardstock envelope with a string closure. The finished size is about 6.75 inches by 3.5 inches. Each envelope kit comes with the base (pre-folded), two sturdy circular tags, two brads, 13 inches of twine, and instructions. Get the kit here: DIY Envelope Kit  They come in a pack of 2 or 10. STEP ONE: Fold the envelope and mark where you want the circular tags to go. (I lay the circles on the envelope to see where I like them & put a dot of ink through the center.) STEP TWO: Unfold...
---
• uses for a Rolodex • ways to use a Rolodex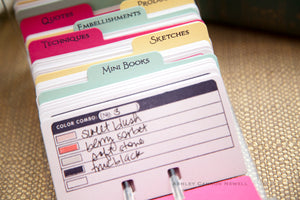 The internet has some inspirational ways in which people use their Rolodex.  LOTS of people use a Rolodex as a desktop scrapbook. And I mean LOTS. There's a whole movement out there. I would put Bible journaling in the scrapbook category, too. Also HUGE!  If you don't believe me - just jump on Pinterest and search "Rolodex".   Kristy Dalman at Some Odd Girl uses her Rolodex to store her hundreds of rubber stamps. This is totally brilliant. Need a flower stamp? Turn to F.   Scrapbook.com suggests using a Rolodex to list all the various stamping techniques you use.   AshleyNewell.com uses her Rolodex...