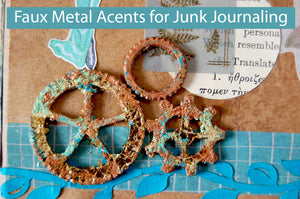 I've been having fun decorating my junk journal and scrapbooking projects with faux metal accents. This easy, 4 step process gives pretty incredible results. Try it on cardstock frames that you can use to accent your junk journal pages. Links to the gold foil sheets and the patina paste I used are below. Supplies Patina Effect Paste in blue, mint green, and brass (Note: I bet you could replicate these with white modeling paste and some ink or paint) Sheets of Gold Leaf glue paintbrush Items to finish - cardstock frames, gears, etc. Step One I like to cut the...
---
• ephemera • homemade • junk journaling • scrapbooking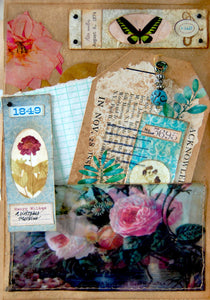 For some reason, I searched online for "botanical specimen slides" and found some wonderful stuff. Apparently, botanists used to wrap their glass microscope slides in pretty papers and label them. So, of course, I had to make some faux botany slides of my own. I liked them so much fun that I made a digital kit to make the process easier. Here's a link if you want to buy the files to print these yourself. Botany Specimen Slides Printable Here's what you need to make your own: Small floral stickers or dried flowers Pretty papers, or the Vintage Botany Slides printout Small...
---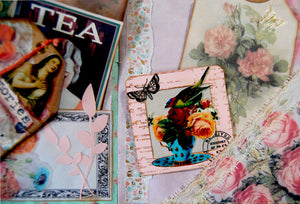 Have you tried printables yet? They're also called digikits or digital downloads and they are files that you use to print your own papers and ephemera. I have a few tips on how you can get the most out of your printables. Tip One - How You Print Think about how you will use the image before you print anything. There are many different kinds of pages, and how you will use them will dictate what you print them on. Fussy cuts are images you cut out and paste on to your pages. Print them on cardstock if you want more dimension...
---
• collage • junk journaling • scrapbooking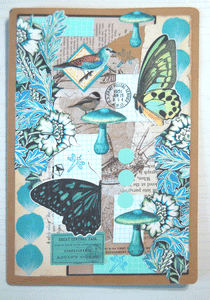 When I was just starting this junk journaling /collage thing, I was often overwhelmed by the sheer number of possibilities there are. Do I use stamping? painting? papers? stickers? The blank page can be a bit intimidating. I started using a 3 step formula for collage that works really well for me. I just mindlessly do these 3 things, and I suddenly have the whole page covered in a neutral background and I have a little frame around it and I find myself ready to create. All of the collages in this blog were started the same way. If you look, you can see...
---
• homemade • junk journaling • scrapbooking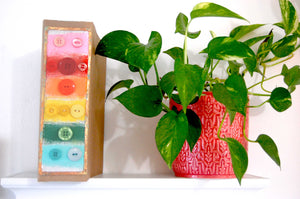 In Part One, I showed you how to make the signatures (the pages) that go into this book. Today, I am going to show you how to make the cover and attach the pages to finish the book. A YouTube video of the process is here: Ephemera Storage Journal Part Two Video Part One of the series is here: DIY Ephemera Storage Journal Supplies A sturdy box Sturdy thread and a needle (Waxed bookbinding thread is ideal if you have it) Scissors Pen Awl or other pokey tool Exacto knife White glue (I also like to use rubber cement in some...