• belly band • homemade • junk journaling • scrapbooking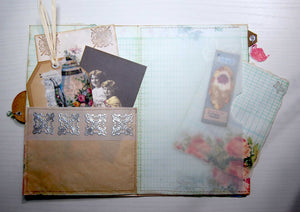 I first used vellum in the Ephemera Storage Journals I made to organize my stickers and other little bits. I made the pockets out of vellum and they worked great! They are super sturdy and transparent, so I can see what is in the pockets. Here's a video if you are interested: DIY Ephemera Storage Journal I liked the vellum so much, that I spent a week coming up with fun ways to use it in my journals. Here are some of my ideas: Emboss Vellum The overlay on the pink belly band on the right is embossed vellum. The vellum looks...
---
• ephemera • homemade • junk journaling • scrapbooking • tabs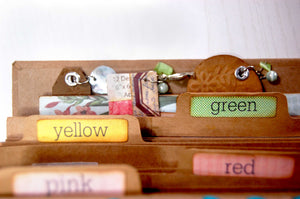 I did a deep dive with tabs recently and experimented with making and using all kinds of tabs in my junk journals. In my mind, I separate them into functional and decorative tabs. Functional Tabs These tabs in my ephemera storage journal are functional because they let me know where my various colors of ephemera are. The vellum tab on the side of the page can be either functional or decorative, depending on what label you slide into it. And the pink tab on the side of the belly band is functional because it lets you know there's a journaling...
---
• ephemera • homemade • junk journaling • scrapbooking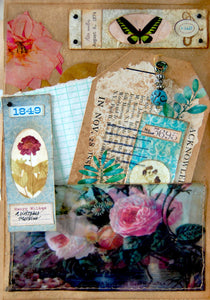 For some reason, I searched online for "botanical specimen slides" and found some wonderful stuff. Apparently, botanists used to wrap their glass microscope slides in pretty papers and label them. So, of course, I had to make some faux botany slides of my own.   I liked them so much fun that I made a digital kit to make the process easier. Here's a link if you want to buy the files to print these yourself. Botany Specimen Slides Printable Here's what you need to make your own: Small floral stickers or dried flowers Pretty papers, or the Vintage Botany Slides printout...
---
• homemade • junk journaling • scrapbooking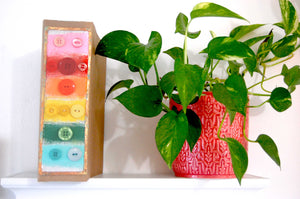 In Part One, I showed you how to make the signatures (the pages) that go into this book. Today, I am going to show you how to make the cover and attach the pages to finish the book. A YouTube video of the process is here: Ephemera Storage Journal Part Two Video Part One of the series is here: DIY Ephemera Storage Journal Supplies A sturdy box Sturdy thread and a needle (Waxed bookbinding thread is ideal if you have it) Scissors Pen Awl or other pokey tool Exacto knife White glue (I also like to use rubber cement in some...