Blog — inexpensive junk journaling supplies
• ephemera • homemade • inexpensive junk journaling supplies • junk journaling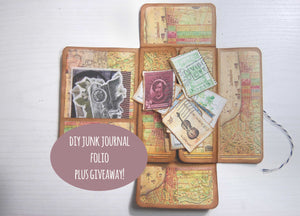 In this video: DIY Folio I showed how I made this sweet folio. There's a link below for the printables I used. They are free to print or download. Please do not share them. Here's how I made it: Step 1 Print the Folio Template on cardstock. I used 65 # brown kraft cardstock. There are light and dark versions of the template. Use the lightest one that shows on your cardstock so the lines aren't obtrusive. Note: the printables don't have the words on them. I just put that up here so you know what goes where. Step 2 Print...
---
• ephemera • homemade • inexpensive junk journaling supplies • junk journaling • scrapbooking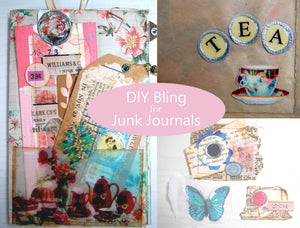 I spent this past week thinking of all the ways I can add some sparkle to my journals without spending a lot of money on charms and other fun shiny things. Here are some ideas I came up with using heat embossing and Glossy Accents. I used watermark ink (any slow drying ink, such as pigment ink, will work) and Metallic Silver embossing powder to make this pretty vellum pocket topper. Here's a link to silver embossing powder if you want to see what I used. Link I used rubber stamps and ink to make the 4 squares on vellum....
---
• inexpensive junk journaling supplies • junk journaling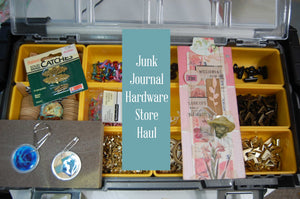 I recently realized that I have a lot of junk journaling supplies that I got from hardware stores. And I got them because they were special and inexpensive. So I thought I'd share some of them with you. Organizational Supplies Hardware stores have great organizers. And they are sturdy and stackable and functional and half the price of craft organizers. Are they pretty colors? No. But I keep them in my closet and I can deal with that.  This $23 tool box will last forever. The yellow bins are removable and there is an upper deck with smaller bins. I...