• ephemera • homemade • junk journaling • scrapbooking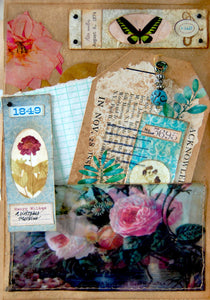 For some reason, I searched online for "botanical specimen slides" and found some wonderful stuff. Apparently, botanists used to wrap their glass microscope slides in pretty papers and label them. So, of course, I had to make some faux botany slides of my own.   I liked them so much fun that I made a digital kit to make the process easier. Here's a link if you want to buy the files to print these yourself. Botany Specimen Slides Printable Here's what you need to make your own: Small floral stickers or dried flowers Pretty papers, or the Vintage Botany Slides printout...
---
• collage • junk journaling • scrapbooking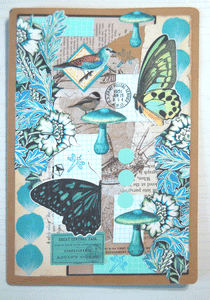 When I was just starting this junk journaling /collage thing, I was often overwhelmed by the sheer number of possibilities there are. Do I use stamping? painting? papers? stickers? The blank page can be a bit intimidating. I started using a 3 step formula for collage that works really well for me. I just mindlessly do these 3 things, and I suddenly have the whole page covered in a neutral background and I have a little frame around it and I find myself ready to create. All of the collages in this blog were started the same way. If you look, you can see...
---
• homemade • junk journaling • scrapbooking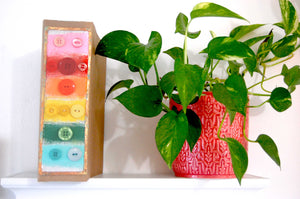 In Part One, I showed you how to make the signatures (the pages) that go into this book. Today, I am going to show you how to make the cover and attach the pages to finish the book. A YouTube video of the process is here: Ephemera Storage Journal Part Two Video Part One of the series is here: DIY Ephemera Storage Journal Supplies A sturdy box Sturdy thread and a needle (Waxed bookbinding thread is ideal if you have it) Scissors Pen Awl or other pokey tool Exacto knife White glue (I also like to use rubber cement in some...