• ephemera • homemade • junk journaling • scrapbooking • tabs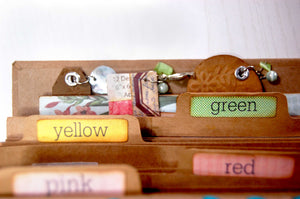 I did a deep dive with tabs recently and experimented with making and using all kinds of tabs in my junk journals. In my mind, I separate them into functional and decorative tabs. Functional Tabs These tabs in my ephemera storage journal are functional because they let me know where my various colors of ephemera are. The vellum tab on the side of the page can be either functional or decorative, depending on what label you slide into it. And the pink tab on the side of the belly band is functional because it lets you know there's a journaling...
---
• collage • ephemera • junk journaling • scrapbooking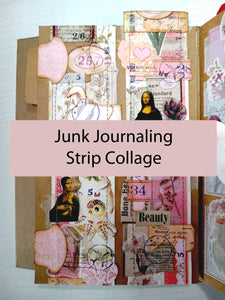 I have discovered a super fun way to get a jump start on my junk journaling ephemera - I call it the Strip Collage. It's a long thin collage that is SO easy to make. It's perfect for decorating tags, pockets, belly bands, tuck spots - even whole pages. I've made them in lots of colors and it's so great to grab one when I need a quick element for a page. There's something about the narrow workspace that makes it easy to create something beautiful - even if you are new to collaging. Give it a try! The best...
---
• collage • ephemera • junk journaling • scrapbooking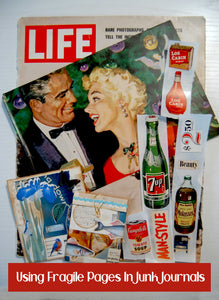 I have some wonderful old magazine and book pages that I want to use in my junk journals. But some of them are so fragile, they'd fall apart if I put them in as is. I've come up with some ways to make good use of these gems. Here are some of my ideas. Make Stickers Small images from old magazines make wonderful stickers. And, once the images have been turned into stickers, they are super sturdy. Here's a link to the inexpensive (and amazing) sticker maker I use. Xyron Sticker Maker Make a Masterboard A masterboard is just a...
---
• ephemera • homemade • junk journaling • scrapbooking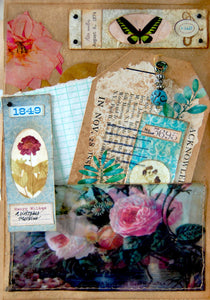 For some reason, I searched online for "botanical specimen slides" and found some wonderful stuff. Apparently, botanists used to wrap their glass microscope slides in pretty papers and label them. So, of course, I had to make some faux botany slides of my own. I liked them so much fun that I made a digital kit to make the process easier. Here's a link if you want to buy the files to print these yourself. Botany Specimen Slides Printable Here's what you need to make your own: Small floral stickers or dried flowers Pretty papers, or the Vintage Botany Slides printout Small...